Webinar
Setting Up A Collaborative Robot with Ease!
October 30, 2020 11:30 AM
While the COVID-19 pandemic has hit manufacturers across the world in immeasurable ways, one thing has become clear to businesses of all sizes: the need to become future-proof, fast! As one of the quickest automation solutions in the market, collaborative robots (cobots) are gaining increasing importance in the Indian manufacturing landscape. Unlike traditional robots, cobots can work without cages (subject to application risk assessment), and have an extremely low footprint to work in constrained spaces with ease. Plus, they are easy to deploy for simple applications, even for first-time robot users. Don't just take it from us, though – join our webinar to learn how you, too, can become a cobot programmer!
Interact with Maneesh Garg, Technical Lead – South Asia, Universal Robots, as he takes you through:
1. First Look: The Cobot at a Glance
2. Preparing a Cobot Task
3. Setting up a tool
4. Creating a Program
5. Interaction with External Devices
6. Controlling Conveyors
7. Safety Settings
8. Cobot Optimization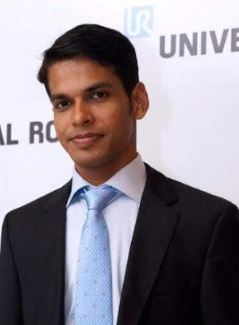 Maneesh Garg
Technical Lead – South Asia, Universal Robots, Universal Robots
Having started working with Universal Robots in 2016, Maneesh has been with Universal Robots since its establishment in the country, and been instrumental in expanding the company's footprint in the South Asian market. Following his recent promotion to Technical Lead, South Asia Universal Robots, Maneesh leads a team of Technical Specialists who strive to ensure satisfaction of the company's customers across the region. Maneesh's certified technical training in Universal Robots, Denmark, has made him especially skilled and specialized in the niche field of collaborative robots.